What are the most significant risks faced by every design and construction project? Group Leader Nick McCullough was invited to be part of Cogence Alliance to offer his insights and explore others. Last week the Cogence Alliance (a select group of owners, architects, engineers, CM/GC, construction trades, and insurance/banking/legal affiliates) released the 2nd installment of its 8-part series. It answers this critically important question that was asked in its first installment. Their goal is to share this information to inspire greater understanding between disciplines, reducing risk, and improving project outcomes for everyone.
Click here to view the Owner's perspective.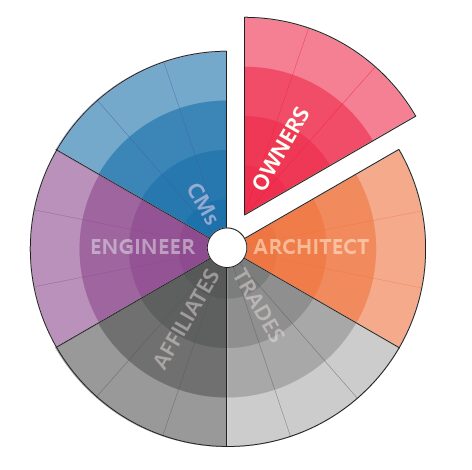 This morning The Kleingers Group was pleased to attend the ULI-Columbus event with a panel on tackling the skilled trades shortage. Some key takaways:
Skilled trades shortage impacts us all including the design industry, municipalities, and owners on top of the construction industry.
We must work together as an industry to change the perception of the trades industry and help reintroduce it into our schools. College isn't for everyone and the trades offer a promising career path with good salaries.
We are working with a large gap due to aging workforce (retiring baby boomers) and the fact that no one pushed kids into our industry during the economic downturn. Everyone wants their kids to go to college and not into the trades. We can't let this happen again and need to look past the short term need and generate a pipeline of workforce.
Schools are working to reorganize learning environments to change the way education is delivered. We need to prepare some students for workforce and not just for college. This goes down to middle school.
At the Kleingers Group we believe promoting the trade industry is going to be crucial to the AEC industry and are excited to play a part.
Many of Ohio's public universities are faced with aging infrastructure in need of updating. In fact, in 2013 the American Society of Civil Engineers gave Ohio's infrastructure a grade of C-.
At the April 15 Society for Marketing Professional Services Columbus chapter meeting — planned and sponsored in part by The Kleingers Group — speakers from four of Ohio's public universities talked about the variety of methods available to them to update infrastructure and their ongoing maintenance needs.
The event, titled "Raising the Grade of Higher Education" attracted more than 125 participants. It was moderated by Kim Martin, Senior Project Manager at Brailsford & Dunlavey, and featured: Glen Yoder, Director of Projects for Facilities Operations and Development at The Ohio State University; Beth Anne Carman Director of the Office of Facilities Management at Capital University; Dan Papay, Associate VP of Facilities Management and Services at Wright State University; and Troy Bonte the Executive Director of Facilities Management and Planning at Otterbein University.
With such a quality panel, there was great discussion throughout the event, but four points stood out to us:
There is very little money available for infrastructure. Many higher education institutions feel they have to build a new building to get money to update infrastructure.
The entities all want to take advantage of public-private partnerships and are looking for new opportunities. A/E/C firms can help suggest ideas.
The higher education speakers agreed that they would much prefer a firm to be honest about an RFQ that they feel isn't well thought out than repeat what they believe the higher education institution wants to hear in a proposal and then not deliver on a project. Telling a higher education institution that the budget or schedule isn't possible can often bring value to a project.
Although public institutions believe there is value in delivery methods other than design-bid-build, many are not yet seeing the benefits.
The message was clear: there is additional room for A/E/C firms to play a larger role in helping find solutions to the problem of aging infrastructure at Ohio's universities.
Now that the event is over, we hope the conversation will continue. For instance, we believe 3D laser scanning can provide unique benefits by creating models of aging buildings to create a digital record of the infrastructure and monitor change. There may also be room to bring together private and public entities on projects that benefit both. Let's continue to discuss ideas to improve Ohio's aging infrastructure and ensure universities are able to use creative solutions to find the funding they need.
The Kleingers Group was proud to sponsor such an important event and looks forward to the continued conversation.