Project Spotlight: Conceptual Grading Plan into a Real World Model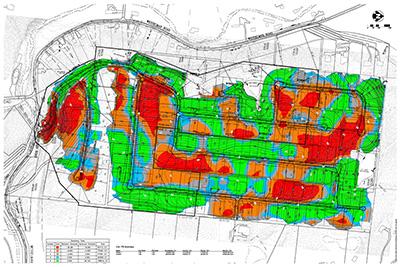 When Joseph M. Allen, PE, PS of Development Planning, Inc. hired The Kleingers Group, he already had a conceptual grading plan in place and knew what he wanted to achieve for Greenshire Commons, a new subdivision on Cincinnati's West Side.
But there were still some major details to work out. The plan for the 170-acre subdivision included moving more than 300,000 cubic yards of dirt and building a 15-foot wall more than 300 feet long at the entrance of the subdivision.
The Kleingers Group helped Allen turn his vision for the site into reality by ensuring jurisdictional standards were met, while still moving forward quickly.
The primary goal for The Kleingers Group was to ensure an earthwork balance on the site – meaning no dirt would have to be taken off-site or brought in – while still meeting Allen's goals for the terrain.
The Kleingers Group used Autodesk Civil 3D to both design and model the proposed terrain surface, providing not only the earthwork calculations but also provide a visual representation of the plan.
First, the roadway profiles were designed to meet both jurisdictional standards and the aesthetic requirements, hitting critical elevations as determined by the Allen. Then tools within Civil 3D allowed The Kleingers Group to model the roadways, sidewalks, walls, and green spaces along the roads. With this foundation in place, Kleingers was able to design the lot grades to accommodate different housing types while honoring drainage requirements and desirable driveway grades.
By using 3D modeling, The Kleingers Group was able to present images that made the suggested terrain easier to visualize and give very specific ideas about the final aesthetic. After each draft, The Kleingers Group worked with Allen to make changes to the grading plan to ensure his goals were met.
Once the systematic design was in place, Kleingers was able to adjust the entire design as requested in a small amount of time.
The final plan includes some dramatic changes to the terrain, including the 15-foot wall at the entrance.
By utilizing Kleingers to work out the details on this small but important piece, Allen was able to move forward quickly while still ensuring his goals for the site were met.