What Plants to Plant to Beat the Heat?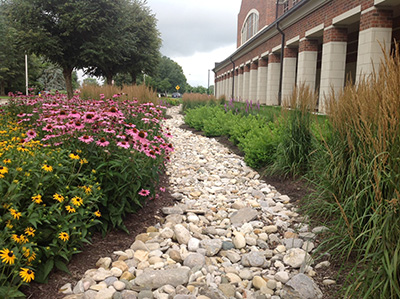 As we head into the summer months and temperatures continue to rise, we often get asked, "What plants should I install that will survive and perform well throughout the summer?"  As Landscape Architects, one area that we specialize in is planting design.  There are many considerations to take into account when selecting the appropriate plant material – size, sun exposure, drought tolerance, salt tolerance, color, time of year that it flowers, and so on.  Whether a project will have irrigation installed or not is another big factor to consider, especially during the summer.  We study all of these plant characteristics to select the correct combination of plants for the specific locations on a project.
Here are some recommendations for plants that are not only drought-tolerant and heat resistant, but could also aesthetically meet the needs of your project:
Perennials:
1. Moonbeam Coreopsis – Coreopsis verticillata 'Moonbeam'
Showy yellow flowers with a light airy texture. Tolerant of a wide variety of conditions including drought and heat.
2. Walker's Low Catmint – Nepeta faassenii 'Walker's Low'
Showy periwinkle blue flower spikes with fragrant grey-green foliage. Attracts hummingbirds and butterflies.
3. Black Eyed Susan – Rudbeckia fulgida
Bright yellow flowers and a bold upright texture make this plant pop in any landscape. An extremely hardy plant with seed heads that persist adding winter interest to the landscape.
4. Blazing Star – Liatris spicata
Vibrant pink flower spikes emerge in late summer/early fall. This plant attracts an abundance of wildlife anywhere it is planted!
5. Purple Coneflower – Echinacea purpurea
Large pinkish-purple blooms sit atop handsome dark green foliage. Extremely durable with many varieties available.
6. Autumn Joy Sedum – Sedum 'Autumn Joy'
Dark pink blooms emerge in fall turning into a coppery color that lasts all winter long. Blooms sit on top of broad succulent stems and leaves.
7. Russian Sage – Perovskia atriplicifolia
Tall, airy, spike-like flower clusters create a lavender blue cloud in the landscape. Flowers sit atop a finely textured aromatic foliage. Extremely drought tolerant, hardy plant.
8. Daylily – Hemerocallis 'Stella de Oro'
Bright yellow flowers emerge above a clump of arching, linear, blade-like leaves. Great in masses as it provides color all year long.
 Ornamental Grasses:
1. Feather Reed Grass – Calamagrostis acutiflora 'Karl Foerster'
An ornamental grass with strong upright vertical lines. The plant is valued for its early bloom time and strong ability to adapt to many growing conditions.
2. Switchgrass – Panicum virgatum
An upright landscape grass with lovely blue-green foliage. In late summer, light, airy, wheat-colored flowers emerge.
 Shrubs:
1. Shrubby St. John's Wort – Hypericum calycinum
A widely used low-growing evergreen shrub. The deep green glossy foliage is an attractive backdrop to the bright yellow pincushion-like flowers that emerge in early summer.
2. Blue Chip Butterfly Bush – Buddleia 'Blue Chip'
Low-growing attractive shrub with great drought tolerance. The shrub features intense blue flower spikes that begin in June and last all season long. This shrub is incredibly fragrant and attracts many wildlife species.
As you can see, selecting the proper plant for the proper location is critical to plant survival and growth. Let us assist you in your next design!