Congratulations to Jay Stewart and Tim Casto for their work on the Deer Park 2035 Vision Plan, which recently won the Frank F. Ferris II Planning Award in the Implementation category!  The award honors local communities whose efforts have contributed to the elevation of planning principles, greater awareness of the value of planning and improved quality of life.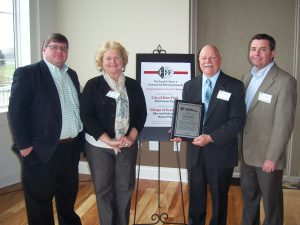 The Kleingers Group drafted the Vision Plan with a heavy emphasis on the implementation of the key priority action items. Some of the key action items identified in the plan and implemented since the plan's adoption in 2008 include:
Update of the City Zoning Code – Following on the heels of adopting the Vision Plan, the City's first implementation project involved the re-write of the City Zoning Code.
Blue Ash Road Streetscape Project – With the help of the City's planning consultant,The Kleingers Group, the OKI Regional Council of Governments; Ohio Department of Transportation; and Hamilton County Engineers, funding has been secured for the $6.5 million Blue Ash Road improvement project.
Development of a Capital Improvement Plan – Acting on one of the key recommendations from the Vision Plan, Deer Park created and adopted its first Capital Improvement Plan.
Creation of a Community Reinvestment Area (CRA) Tax Incentive Program – In September 2012, the Deer Park Council designated the entire City as a Community Reinvestment Area (CRA) to provide tax incentives to property owners to encourage new investment.
Creation of a Community Improvement Corporation (CIC) – Created in February 2011, the Deer Park Community Improvement Corporation (CIC) serves as the economic development arm of the City.
Establishment of the Deer Park Business Organization – Beginning in 2009, the City spearheaded the creation of the Deer Park Business Association (DPBA).
The 2035 Vision Plan recognized that without a written master plan, the City of Deer Park would likely place itself at a disadvantage when presented with redevelopment and other growth related opportunities. The implementation of the Vision Plan's priority goals and action steps will facilitate fiscal sustainability, maintain and enhance the quality of life for residents and businesses, preserve the City's many traditional neighborhoods, and place Deer Park in a competitive position in the Greater Cincinnati economy.
Tim Casto, serves as Deer Park's City Engineer. Jay Stewart, serves as a planning consultant to the city and is President of the Deer Park Community Improvement Corporation.
Amanda Roehl was recently awarded the Marketer of the Year Award, by the Greater Cincinnati Society for Marketing Professional Services. The award recognizes members who have set new standards of achievement in the A/E/C industry and has gone above and beyond the call of duty within the chapter. Amanda has been a member of the Cincinnati Chapter for 10 years and has served on the board for the past three years. Amanda will serve as President-Elect for the 2014-15 season.