An Elementary School Courtyard Comes to Life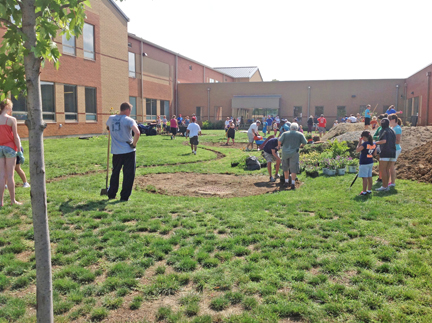 The Kleingers Group Landscape Architecture Studio donated time to create a design and personally volunteered to help complete a courtyard for an urban elementary school in the City of Hamilton.
As it stood, the courtyard at Riverview Elementary was a space that was never fully utilized by the staff and students. The courtyard had no real organization, and in turn, saw little to no use. After meeting with the school staff and community organizers, a vision was set to transform the courtyard into a functioning and interactive outdoor learning space. The objective of the courtyard is to provide a space which aids in helping students meet required curriculum, but does so in a way which encourages the kids to love and learn about nature.
Six learning stations and an outdoor play area were designed with various elements to teach students about math, science, reading, art, health and physical education while also providing an outdoor gathering space where teachers can hold class. These areas include: A Tree Grove; Rain Garden; Outdoor Classroom; Reading Garden; Ecological Learning Area; Archeological Sand Dig; and Outdoor Play Area. Each space provides a unique learning area that can be used by the students throughout the year.
During construction, The Kleingers Group team laid out the design on site and helped organize volunteers in an effort to bring the design to life. The team laid out each learning area and directed volunteers where and how to plant plantings while also demonstrating how to construct the learning areas with the donated materials.