Landscape Architecture Month: Designing a Better Community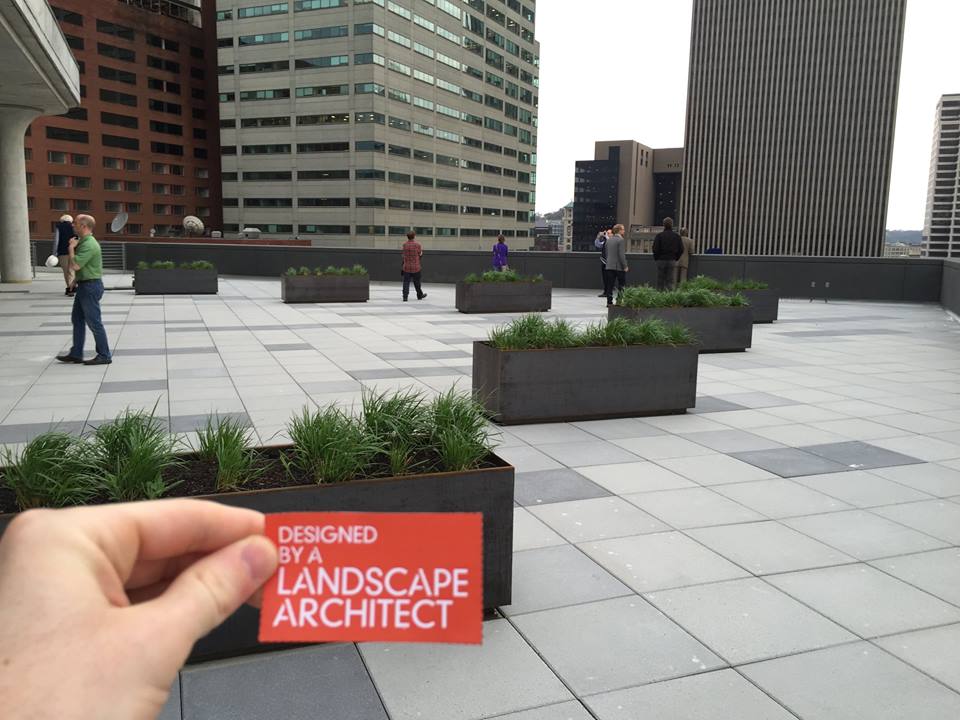 April is World Landscape Architecture Month — a time dedicated to promoting landscape architecture to students and educating others about what it means to be a landscape architect.
Landscape architects are the people responsible for designing the parks, plazas, streetscapes, and green spaces that make the outdoors healthy, sustainable and enjoyable. At the Kleingers Group, we are proud of the role our landscape architects play in moving communities forward.
This month, we asked our landscape architects about why their profession is important, why they got involved, and what projects count among their favorites.
1. Why Are Landscape Architects Important?
"Landscape architects are important because they have the ability and skills to bring many different people and professions together to create improvements for the community.  LA's look at projects from a holistic approach, searching for the best solution." – Michael

"Without landscape architects our world would be boring! Landscape architecture is not just about making things look pretty, its about creating and transforming spaces that initiate lifestyles and allow users to get outside and enjoy quality designed spaces. Landscape architects shape our built environment, they create spaces that function but are also aesthetically pleasing and designed to enhance the user's quality of life." – Ryan
2. What Inspired You to Become a Landscape Architect?
"I was inspired to enter the profession of landscape architecture when my parents decided it was time to spruce up their house. I was in middle school when they hired a landscape architect to completely transform their outdoor spaces. I immediately became interested in the process from reviewing plans, to choosing materials, to looking at plants. It wasn't until I saw the finished product and the amazing transformation happen that I knew I wanted to do this for the rest of my life. After the transformation, the way we used our outdoor spaces changed. We no longer used the inside of our house for the majority of our activities, my family was outside as much as possible enjoying the amazing spaces that were created. I knew I wanted to design these spaces so everyone could have as much fun enjoying nature as I have." – Ryan

"I first learned about the profession of landscape architecture from my dad, as he had graduated from Ohio State with a degree in Landscape Architecture.  From listening to him talk about the profession, I knew that there was a lot more to landscape architecture than just designing planting plans. It was interesting to hear his stories about happenings that had occurred in the studio while drawing or something that happened in the field. It all sounded exciting. Because my dad graduated in landscape architecture from Ohio State,  I remember seeing an alumni brochure he received in the mail showing the landscape architecture studio space. That sealed the deal for me, I thought it would be really cool to work in a creative studio environment." – Lynne

"My senior year of undergrad, I took an environmental design class where I learned about landscape architecture for the first time.  It combined many of my interests of design, the outdoors, etc. and the rest is history." – Michael
3. Do You Have a Favorite Project that You Have Worked On?
"My favorite project I worked on was the Japanese American National Museum project in Los Angeles. It is my favorite project because it was the first project I worked on from concept design all the way through construction administration. I also loved the design of the project as well as the scale.  It was also fun because George Takei, Sulu, from Star Trek was on the board of trustees of the Japanese American National Museum. I remember him being at a couple of meetings. I never watched Star Trek, so, I didn't really care, but, it was funny to come back to the office and everyone would ask if George was at the meeting because they were Star Trek fans. The project also incorporated a fountain designed by Robert Murase." – Lynne

"One of my favorite projects is one of my earliest ones that I did while working with LDR/HNTB in Maryland, called Carroll Creek.  It transformed a desolate flood control infrastructure into an urban park, generating new business and residences for the city of Frederick, MD." – Michael

"My favorite project I have worked on would be Miami University's Western Campus. It was a large project with many different aspects. This project was a fast-paced project that allowed me to express a lot of creative freedom. Because the project was so fast paced, I was able to see how the design translated from paper to a real life application while the design was still fresh in my mind, which is pretty rare in our profession. Also, most my family members went to Miami University, so when we go up to oxford it also allows me take them to the project and brag about how cool the finished product is!" -Ryan
4. What Is Your Favorite Part of The Job?
"My favorite part of being a LA is seeing the physical impact on the community that our designs/projects have.  To go to a public project (or a private one) and see people using it is the best reward." – Michael

"I really enjoy most aspects of the profession because it is ever changing. I would say my absolute favorite portion would be the creative freedom we, as designers, are allowed. No two projects are alike, so it allows us to create unique new spaces with each project. The job is never monotonous and always keeps you interested and on your toes!" – Ryan
5. What Have You Done to Educate Others About the Profession?
"I serve as the Ohio Chapter VP of ASLA and therefore, I am working with our state legislators on advocacy for the profession. In fact, next week,  I go to Washington D.C. to speak to our senators and representatives about issues relative to the landscape architecture profession. I have visited a class of kindergarteners and talked to them about landscape architecture and what we do as professionals. To show them in a way that they can relate, I asked them what they liked about parks and wrote down the list of things they liked to do at parks. Then, in a charrette style, right in front of them, I designed a park with all the elements they love. While doing so, I opened up their eyes that not only do  landscape architects think about the fun stuff in a park, such as the playstructures, but also plan how the overall park is master planned and designed. For example, how you get to a park, (driving, walking or riding your bike), restroom facilities, parking areas, shade, and seating etc. and how all these elements work together." – Lynne

"It is a constant education to explain to people that LA's do more than backyards, golf courses or plants.  To help get that message out there, I have spoken at conferences, public meetings, and just converse with people in general." – Michael