The trusted team at TrueScan TM knows that building projects are often delayed by inaccurate or outdated information. But for you, it doesn't have to be this way. Advanced laser scanning from TrueScan precisely captures your building, so you can design with confidence, stay on budget, and remain a trusted partner through the entire process. Between our laser scanning services and detailed 3D modeling, we cover every inch and angle of your project and prepare you for any possible mishap so you can focus on what you do best.
Learn more about TrueScan's 3D laser scanning solutions in Tampa here.
We know precision reduces unpleasant surprises. You need accurate measurements from the start to the end of a project. The problem is, traditional methods of measuring are often inexact, creating misalignments and uncertainty. We believe you deserve to have reliable data from day one. That's why we focus our decades of measurement science experience on providing the most precise capture of your building or structure. TrueScan provides relevant and accurate data that will keep your project on track and successful.
Learn more about TrueScan's 3D laser scanning solutions in Miami here.
It's the third day of the National Surveyors Week celebration here at The Kleingers Group. Already this week we've covered little known facts about surveying at Kleingers, and 3D laser scanning. Today we'll cover bathymetric surveying.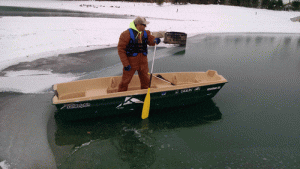 When someone mentions the phrase "bathymetric survey" you probably envision scenic views of ocean shoreline, perhaps a busy seaport, an oil platform in the Gulf of Mexico, or at least a sailboat somewhere in the Great Lakes region.  Rarely would you think of central or southwest Ohio…or would you?
The term "bathymetry" originally referred to the ocean's depth relative to sea level, although it has come to mean "submarine topography," or simply the depths and shapes of underwater terrain.
In the same way that topographic maps represent the three-dimensional features (or relief) of overland terrain, bathymetric maps illustrate the land that lies underwater.  Surveyors with The Kleingers Group have had several opportunities to try their hand at bathymetric surveying over the years…although admittedly at a somewhat smaller scale than may come to mind in a coastal region.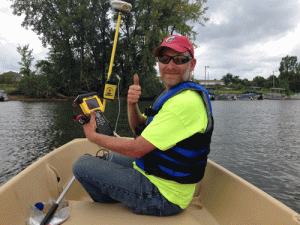 Our central Ohio group recently supported George J. Igel Company in their efforts to provide protection for the Smothers Road Causeway on the Hoover Reservoir and to help address erosion control issues that have occurred over the years due to fluctuating reservoir levels.  By combining GPS and sonar equipment, one of our survey crews utilized a small boat to obtain existing underwater topography and monitor construction progress in waters up to forty-five deep.
Another recent project developed underwater contours of a 2.3-mile portion of the Great Miami River in Hamilton, Ohio.  Originally performed a few years earlier to aid the development of a competitive course for the Miami University rowing team, the survey was recently updated to determine the effects of siltation from a recent construction project.
So, the next time you pass a body of water somewhere in Ohio and wonder what kind of strange fishing equipment is being used…maybe it isn't fishing equipment at all!