Bridging the Gap on Hunger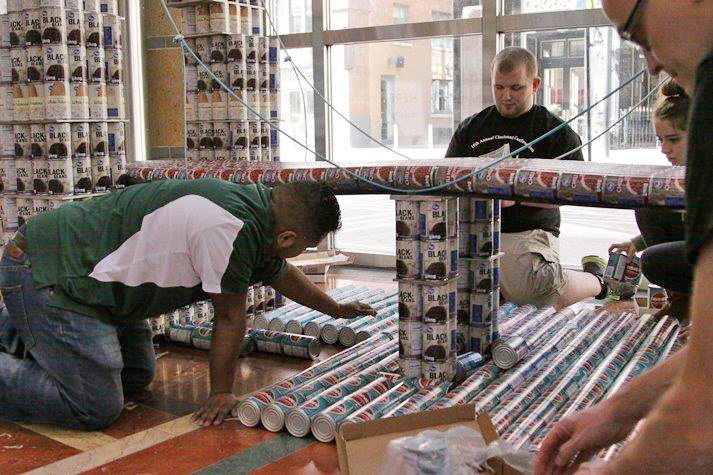 This week, The Kleingers Group teamed up with the Cincinnati State student chapter of the American Society of Civil Engineers to build a model of the Roebling Suspension Bridge made out of 2,824 cans.
The model, which took five hours to build, is part of Canstruction 2016, an international community service project that partners with the design and construction industry to benefit community food banks.
Each year, architects, engineers, and designers create giant models made entirely out of canned foods at various locations around Cincinnati. After judges rank the best displays, all of the cans and money raised for the event are then donated to the FreestoreFoodbank.
This marks the 19th year for the Canstruction event locally.
With help from Kleingers, the Cincinnati State students designed the model and created plans for building it. It is currently on display at the Aronoff Center for the Arts downtown. Other models are on display at the Downtown Public Library, Center at 600 Vind, Macy's Fountain Place, Hyatt Regency on W. Fifth Street, the Hampton Inn & Suites on Vine Street, and the Scripps Center on Walnut Street.
The Kleingers Group has a longstanding relationship with Cincinnati State as a co-op employer, and the firm has a history of hiring graduates, sometimes after they have gone on to other institutions to earn an engineering degree.
For more information about the Canstruction event, visit www.cincinnaticanstruction.org.