It's not every day that an Owner takes on planning a 100+ acre sports park, but when the scenario arises, The Kleingers Group brings proven experience to the team. Over the years, Kleingers has designed a number of large-scale sports parks and has found that many of the same considerations tend to come up during our design process. We would like to share with you what to consider before you take on your sports park design.
1. Connect to Existing Community Assets
Creating transportation linkages to other community resources such as parks, schools, YMCAs, and more will encourage participation at the new development. Pursue ways to blend the new park with its surroundings and work with neighbors and stakeholders to build support for the project. Leverage connections through existing infrastructure like trailways, complete streets, and other multi-modal systems will provide easy access for bicyclists and pedestrians who visit the facility.
2. Create a Site that is Safe, Easy to Use, and Navigate
Speaking of connecting the site with pedestrians, it's also important to design ways to keep them safe, especially from vehicular traffic. Maintain separate vehicle travel zones and pedestrian travel zones when possible and provide for safe and clearly marked crosswalks to help minimize conflicts. Branding, wayfinding, and creative use of landscape theming will help visitors with vehicles travel to their destination within the site more efficiently while minimizing user frustration.
Oftentimes, large sports complexes lack adequate wayfinding due to oversight or budget concerns. Proper wayfinding design can help users get to where they need to be while also creating a recognizable brand for the sports park and the associated owner.
3. All Sports Park Owners are in the Parking Business
Did you know that many competitive organizations that bring tournaments to sports parks require minimum parking per event? Organizers hosting tournaments require anywhere between 50-100 spaces per field, some require even more. Believe it or not, sports park owners are in the parking business. Visitors have high expectations that parking should be easy and accessing their field shouldn't be a hassle. Tournament organizers must meet the demands of their clients, which means balancing the site's infrastructure is important to everyone's bottom line. Planning for enough parking close to destination points within the design allows for better traffic flow and provides better ADA access throughout the site.  The site layout needs to balance ease of access without being interrupted by large parking areas, or losing the vibrancy of an active and energized park.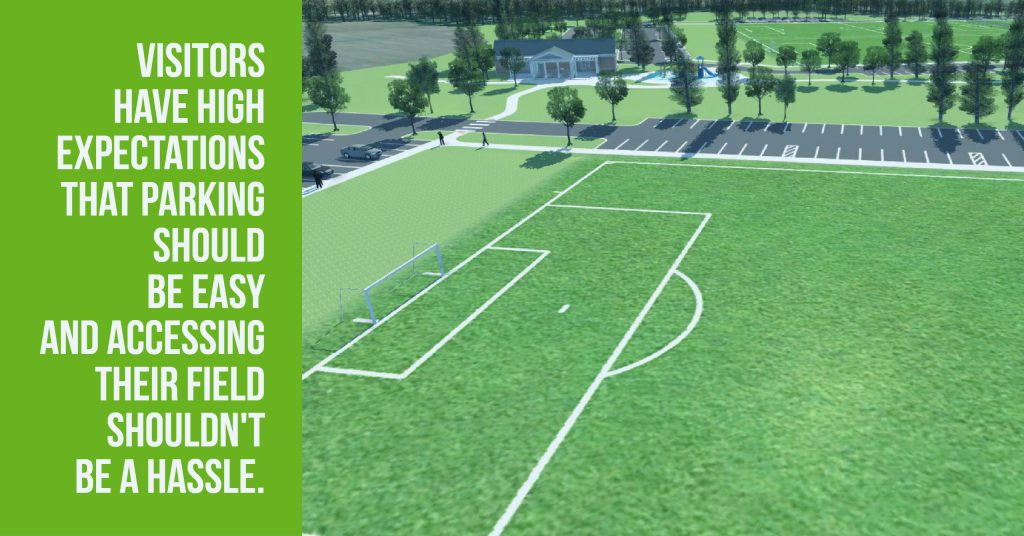 4. Plan for Flexibility: Master Planning the Site for Optimum Use
Creating a park with the most flexible layouts will mean more options for end-users. Engineering the field grading is a key component. Fields should be carefully engineered to accommodate high-end games and large events with the ability to host smaller games within the same space without compromising the playable area, including crowns and field orientation.
Master planning a complex for multiple sports provides flexibility when attracting special events. Understanding how to plan for and design sports parks for flexibility amongst sports, whether soccer, football, lacrosse, rugby, Australian football, ultimate frisbee, baseball, softball, or cricket will attract a larger audience. Knowledge of national sports trends will allow the field designer to guide a client through the planning stages while meeting their needs and measured desires within the area.
5. Coordinate with Local Municipalities
Working with local interests and shareholders during the design process helps to ensure that everyone has a voice in the process of designing the sports park. Creating opportunities for partnerships early will help generate buy-in from key stakeholders and community members. Our experience in working through this relationship helps guide programming, affordability, and ultimately desired priorities.
6. Plan for Extra Traffic in the Area
More often than not, any new development brings additional traffic to a site. Traffic engineers can provide traffic studies to better understand current traffic conditions and anticipated changes and recommendations.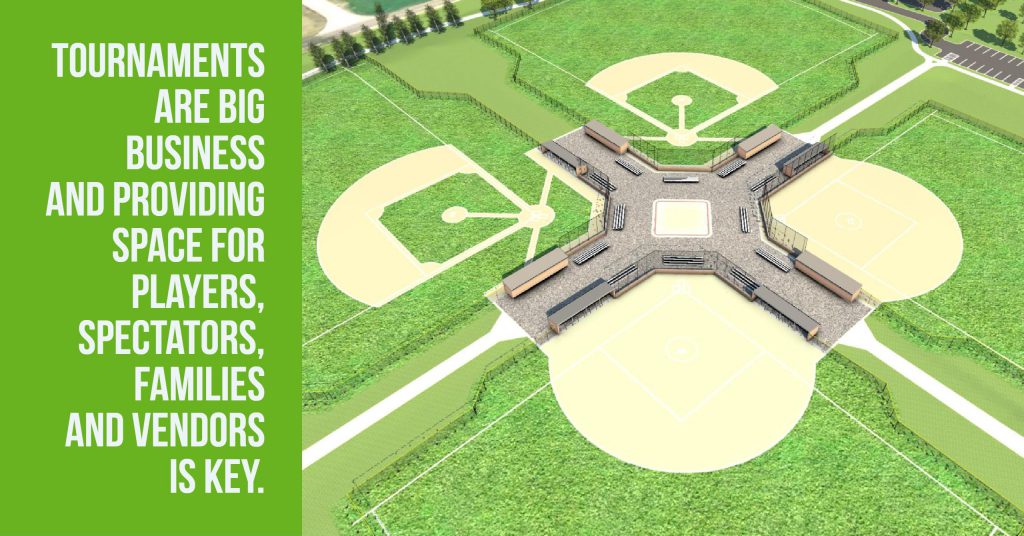 7. Sports Engineering is Key: Grading, Drainage & Field Performance Will Keep Them Coming Back
Creating space for tournaments is big business and retaining that business helps any sports park be successful. If the grading, slopes, drainage, playing surfaces, and other amenities are not designed properly, tournament organizations will take their business down the road to the competing sports park. Competitive organizations have a business to run and their business model depends on feedback from players and parents who use the fields, facilities, and park amenities at these events. Positive survey feedback will increase the chances that they return again for another event.
8. Plan for Attendees Who are not Players or Spectators
A large portion of the sports park business is creating a fun and comfortable experience for attendees. Creating spaces, such as playgrounds, within eyesight of a group of playing fields keeps that family with one child playing in the game and another bored on the sideline entertained and comfortable. Providing a trail system allows for visitors to take a break between tournament games, connect to another game across the complex, or meander to a 'hub' with concessions and restrooms nearby. Trails also appeal to pedestrians and bicyclists across the community.
9. Create a Space for Vendors
An often-overlooked element of the sports complex business is providing adequate space for vendors who are often on hand during a sporting event selling sports equipment, promotional items, and more to parents and other attendees. Creating 'vendor zone' spaces convenient to tournament sites is a key selling point to those looking to bring competition to the area.
10. Plan for Championships and Celebrations
Another trend in design that we see is the inclusion of championship fields. These higher-quality fields, sometimes utilizing synthetic turf, are designed with more seating and are typically located in prominent areas of the complex to draw more crowds as competitions wind down. Additionally, we see the integration of amphitheater spaces where teams celebrate their accomplishments with awards ceremonies.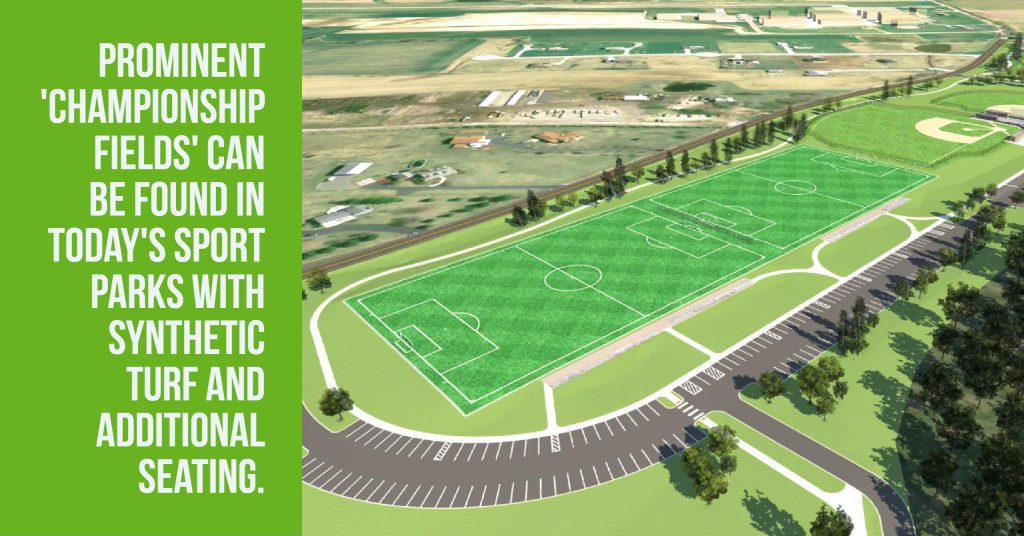 Summary
These design considerations are a fraction of the items to explore when creating a sports park. At Kleingers/Sportworks, we understand the business of sports parks, the competition that takes place inside and outside the park, and the investment owners take in creating these opportunities for revenue. We also understand good engineering, traffic, sports field engineering, survey and landscape design, and the importance of getting all of these things done right for the bottom line and ultimate success of any sports park complex.
Case Study: Wilmington Pike and Feedwire Road Roadway and Intersection Improvements

Construction was recently completed on the multi-phase project which took a major intersection within Montgomery County from 3-lanes to 9-lanes at the largest point. Already a highly traveled area in the county, a new adjacent development was driving the need for improvements at a large scale. The project area is populated with many retail establishments, restaurants, and homes.  All of these stakeholders would be impacted by the development that included Costco, Kroger Marketplace, Cabella's, and additional outparcels with smaller retail and restaurant space.
The Kleingers Group worked closely with the City of Centerville, homeowners, business owners, and other stakeholders to ensure the design would meet increased traffic capacity needs, accommodate pedestrians, and help keep area businesses operational.
Below are examples of things to consider when planning your next large-scale complete-streets, roadway design project.
Minimizing the Impacts on Businesses Through Design
Maintenance of traffic (MOT) in any roadway project can make or break the businesses affected during construction. Kleingers found challenges throughout the three phases of the project but worked to address or even predict each one.
Number one, the entire project scope (all 3 phases) was designed early in the process to ensure that each end of the project would have the least impact on the right-of-way, and ultimately the existing businesses along with the design. Creating this initial master plan allowed our engineers to create a design that provided no disruption to the area businesses. For some businesses, losing parking spaces could mean closing their doors. Because of Kleingers' universal look early in the design process, no parking stalls were affected during construction or lost after completion of the project. Kleingers' worked with the city to help predict future phases and affected areas to ultimately help save money.
Speaking of saving money, and resources, Kleingers' carefully coordinated plans to help save on temporary paving costs by salvaging pavement from other phases of the project. The salvaged pavement was used to reduce construction costs where temporary pavement was needed for maintaining 2-lanes of traffic.
Not only was the area already highly populated, but the thoroughfare was an important route for nearby hospitals and other emergency crews. Kleingers coordinated with local hospitals, the city, and its emergency services departments to ensure 2-lanes would remain operational during the life of construction so that emergency crews could operate, business as usual.
More than Just Roadway Improvements – Complete Streets
Complete streets are defined as 'streets for everyone' and 'a means to make it easy to cross the street, walk to shops, and bicycle to work.' The Wilmington Pike and Feedwire Road project was designed to address safety for all travelers beyond motorists, including pedestrians, bicyclists, and transit riders.
With traditional sidewalks provided on one side, 8-foot wide meandering paved trails, and a concrete bus stop for Dayton RTA riders, the project was challenged with not only creating the means for safety but also creative drainage solutions.
Our traffic engineers took into account ADA and pedestrian safety when designing for three traffic signals along with the project. The design provided key elements such as voice-activated pedestrian push buttons that are timed and integrated with the signal system; ADA curb ramps; and landscape mounds along with the development which obstructs headlights that beam into on-coming traffic. The project also incorporates a pull-off bus stop for Dayton RTA riders along with ADA access and a gazebo that protects transit riders. All of these elements working together provide safe access for pedestrians and bicyclists in the area.
The city looked to Kleingers to help find the balance of economics when comparing adding more right-of-way (ROW) costs or providing environmental and water quality structures to address drainage design. Typically, on most projects where adding more ROW to a project has little impact on local businesses or homeowners, the simple solution is to create larger ditches to handle drainage runoff. In this particular project where the project was constrained by several existing businesses, the cost-effective solution to drainage was to add water quality structures. In doing so, the designers were able to also address environmental concerns while maintaining precious ROW.
The Loon – Designing Safe 'Out-Of-The-Box' Solutions for U-Turns
Roadway engineers are continually looking for ways to improve vehicular and pedestrian safety. A rare, 'out-of-the-box solution for drivers who want to safely cross or make a U-turn on a divided roadway is through the use of a 'Loon through-turn' design. So, what is a loon? The loon is pavement that is constructed outside of the normal traffic lane within the right-of-way space. This additional area allows vehicles, especially larger ones, to safely make a U-turn on a roadway divided by a median.
Where lanes were widened to accommodate the increase in traffic, a median was created to provide safer access for those who live along this stretch of road. The installation of the loon helps those who have headed northbound access their homes on the other side of the new median without the safety implications of crossing large amounts of oncoming traffic.
Predicting Construction Conflicts in A 3-Phase Project
Often, unforeseen construction issues are a leading contributor to increased construction costs during a project. Kleingers considered all aspects of construction coordination between project phases when designing the roadway improvements, such as drainage, utility coordination, elevation changes with a neighboring development project, and much more.
The Kleingers' team was able to provide contractors with finished elevations for coordination of major utilities, including water mains, gas mains, and power distribution lines. By telling contractors exactly where to locate lines, even in areas that had not been graded for elevations, those utility contractors could be on-site once during the life of the project without additionally impacting the schedule later in construction. It also meant that site contractors would have to grade the site less and fewer materials would be required, ultimately saving time and money.
By working alongside the designers for the adjacent site development project, The Kleingers Group could provide regular updates on a continuous basis. Adjusting for site elevation, drainage, and utility changes during the project's design phase. This allowed Kleingers to maintain continuous control of the project while in the field. This extra coordination helped Kleingers quickly accommodate for construction surprises in the field, helping to alleviate downtime on the project.
In summary, a successful large-scale complete street project will require close coordination among all stakeholders during the design phases to mitigate common budget and schedule busting events.