It's not every day that an Owner takes on planning a 100+ acre sports park, but when the scenario arises, The Kleingers Group brings proven experience to the team. Over the years, Kleingers has designed a number of large-scale sports parks and has found that many of the same considerations tend to come up during our design process. We would like to share with you what to consider before you take on your sports park design.
1. Connect to Existing Community Assets
Creating transportation linkages to other community resources such as parks, schools, YMCAs, and more will encourage participation at the new development. Pursue ways to blend the new park with its surroundings and work with neighbors and stakeholders to build support for the project. Leverage connections through existing infrastructure like trailways, complete streets, and other multi-modal systems will provide easy access for bicyclists and pedestrians who visit the facility.
2. Create a Site that is Safe, Easy to Use, and Navigate
Speaking of connecting the site with pedestrians, it's also important to design ways to keep them safe, especially from vehicular traffic. Maintain separate vehicle travel zones and pedestrian travel zones when possible and provide for safe and clearly marked crosswalks to help minimize conflicts. Branding, wayfinding, and creative use of landscape theming will help visitors with vehicles travel to their destination within the site more efficiently while minimizing user frustration.
Oftentimes, large sports complexes lack adequate wayfinding due to oversight or budget concerns. Proper wayfinding design can help users get to where they need to be while also creating a recognizable brand for the sports park and the associated owner.
3. All Sports Park Owners are in the Parking Business
Did you know that many competitive organizations that bring tournaments to sports parks require minimum parking per event? Organizers hosting tournaments require anywhere between 50-100 spaces per field, some require even more. Believe it or not, sports park owners are in the parking business. Visitors have high expectations that parking should be easy and accessing their field shouldn't be a hassle. Tournament organizers must meet the demands of their clients, which means balancing the site's infrastructure is important to everyone's bottom line. Planning for enough parking close to destination points within the design allows for better traffic flow and provides better ADA access throughout the site.  The site layout needs to balance ease of access without being interrupted by large parking areas, or losing the vibrancy of an active and energized park.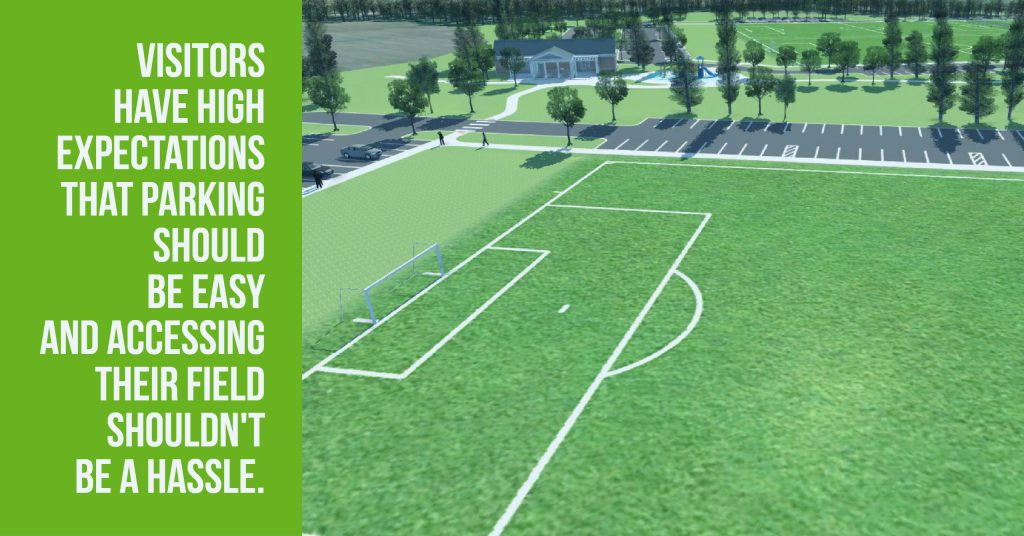 4. Plan for Flexibility: Master Planning the Site for Optimum Use
Creating a park with the most flexible layouts will mean more options for end-users. Engineering the field grading is a key component. Fields should be carefully engineered to accommodate high-end games and large events with the ability to host smaller games within the same space without compromising the playable area, including crowns and field orientation.
Master planning a complex for multiple sports provides flexibility when attracting special events. Understanding how to plan for and design sports parks for flexibility amongst sports, whether soccer, football, lacrosse, rugby, Australian football, ultimate frisbee, baseball, softball, or cricket will attract a larger audience. Knowledge of national sports trends will allow the field designer to guide a client through the planning stages while meeting their needs and measured desires within the area.
5. Coordinate with Local Municipalities
Working with local interests and shareholders during the design process helps to ensure that everyone has a voice in the process of designing the sports park. Creating opportunities for partnerships early will help generate buy-in from key stakeholders and community members. Our experience in working through this relationship helps guide programming, affordability, and ultimately desired priorities.
6. Plan for Extra Traffic in the Area
More often than not, any new development brings additional traffic to a site. Traffic engineers can provide traffic studies to better understand current traffic conditions and anticipated changes and recommendations.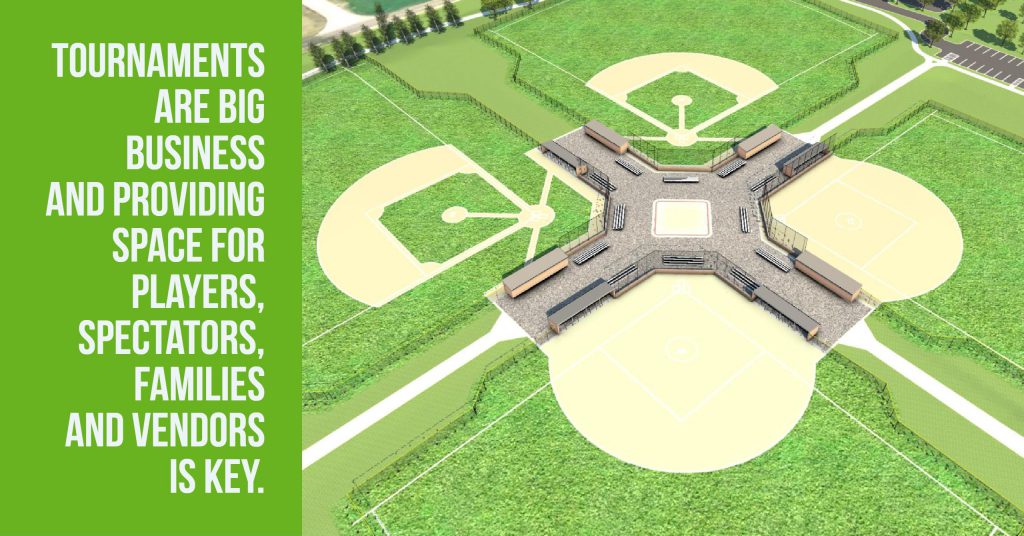 7. Sports Engineering is Key: Grading, Drainage & Field Performance Will Keep Them Coming Back
Creating space for tournaments is big business and retaining that business helps any sports park be successful. If the grading, slopes, drainage, playing surfaces, and other amenities are not designed properly, tournament organizations will take their business down the road to the competing sports park. Competitive organizations have a business to run and their business model depends on feedback from players and parents who use the fields, facilities, and park amenities at these events. Positive survey feedback will increase the chances that they return again for another event.
8. Plan for Attendees Who are not Players or Spectators
A large portion of the sports park business is creating a fun and comfortable experience for attendees. Creating spaces, such as playgrounds, within eyesight of a group of playing fields keeps that family with one child playing in the game and another bored on the sideline entertained and comfortable. Providing a trail system allows for visitors to take a break between tournament games, connect to another game across the complex, or meander to a 'hub' with concessions and restrooms nearby. Trails also appeal to pedestrians and bicyclists across the community.
9. Create a Space for Vendors
An often-overlooked element of the sports complex business is providing adequate space for vendors who are often on hand during a sporting event selling sports equipment, promotional items, and more to parents and other attendees. Creating 'vendor zone' spaces convenient to tournament sites is a key selling point to those looking to bring competition to the area.
10. Plan for Championships and Celebrations
Another trend in design that we see is the inclusion of championship fields. These higher-quality fields, sometimes utilizing synthetic turf, are designed with more seating and are typically located in prominent areas of the complex to draw more crowds as competitions wind down. Additionally, we see the integration of amphitheater spaces where teams celebrate their accomplishments with awards ceremonies.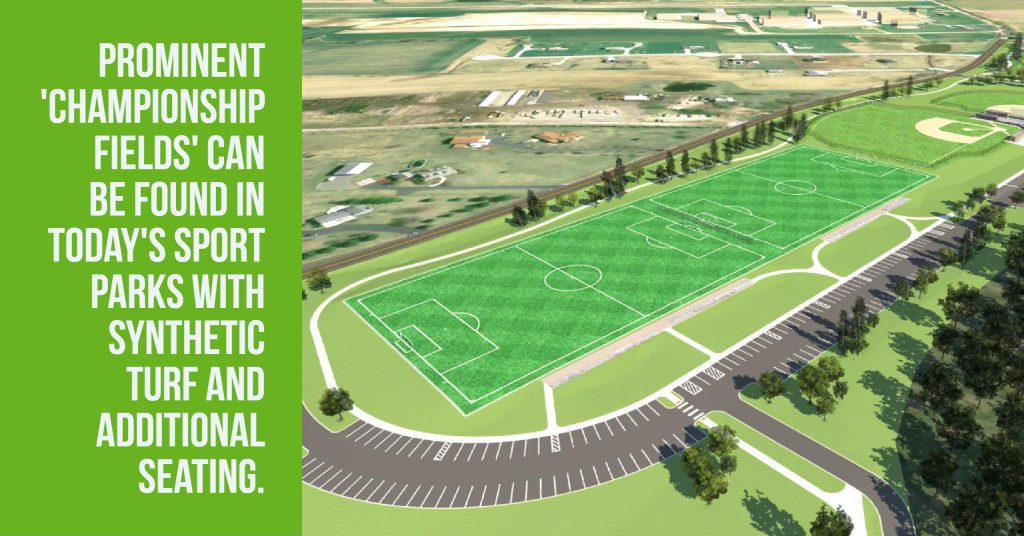 Summary
These design considerations are a fraction of the items to explore when creating a sports park. At Kleingers/Sportworks, we understand the business of sports parks, the competition that takes place inside and outside the park, and the investment owners take in creating these opportunities for revenue. We also understand good engineering, traffic, sports field engineering, survey and landscape design, and the importance of getting all of these things done right for the bottom line and ultimate success of any sports park complex.
In celebration of 2017 World Landscape Architecture Month (WLAM), The Kleingers Group generated an online social media campaign to raise awareness for the landscape architecture profession. The campaign gave social media followers the opportunity to vote for their favorite community park designed by Kleingers' landscape architects. The park with the most votes would receive a shade tree donated by the Kleingers Group. During the month-long landscape architecture celebration, the campaign reached over 10,000 people online and Miller Ecological Park in Lebanon, Ohio was selected to receive the donated tree from Kleingers.
The Miller Ecological Park consists of many sustainable features including a permeable parking lot, bioswales, and many diverse plantings to attract birds and wildlife. Many projects within the park have been donated such as bird boxes, a wildlife blind, an informational kiosk, benches and bleachers, a maintained walking/running trail, bridges, and a gaga pit.
"The City is very thankful for the donation of a beautiful tree in Miller Ecological Park, by Kleingers, as we continue to work on enhancing the park's natural environment."
– Scott Brunka, Deputy City Manager, City of Lebanon
The Kleingers Group remains astounded by the level of support each community fostered during our small campaign. We can only hope this effort will inspire others to give back within their own communities. Thank you to all who voted, donated, and celebrated #WLAM17 with us. We look forward to celebrating again next year!
To learn more about the profession and Landscape Architecture Month, visit https://www.asla.org/contentdetail.aspx?id=45783.