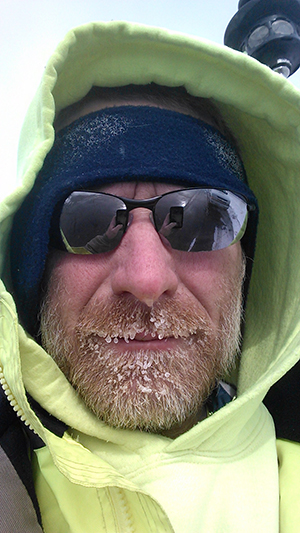 This week marks National Surveyors Week! Our 25 registered surveyors and technicians are a hardy bunch and have braved conditions ranging from freezing, sweltering, wet, muddy, buggy, smelly, claustrophobic, and itchy all in the name of accurate surveys and maps. This week we salute them!
This week is also about promoting the profession and educating others. With that in mind, we asked our surveyors about some of their favorite experiences.
1. how Do You Explain to Someone (who Knows Nothing About Survey) What It Is that You Do?
"We stand behind a 'camera' and take pictures!! 😉 We do such a multitude of things its often hard to describe, but mostly we give engineers a basis to begin their design by locating terrain and physical features and producing a drawing or map that they use to design with. As one of my former colleagues said "if it wasn't for all the math and walking it would be pretty good job!" – Adam C.

"If I am talking to one of my friends about my job, I tell them I draw up plans of an area we surveyed or gather information of the owners of that lands we are doing work on." – Adam I.
2. What Is the Weirdest Thing You Have Ever Surveyed/Scanned?
"I spent a lot of time at Rumpke landfill doing a multitude of surveying activities. Many times, they had us getting the height of the trash to make sure they weren't going over the height allowed by the county. Other times they had us surveying existing and proposed gas lines as they would sell off the gas being produced underneath the trash." – Randy

"While working for a company as a CO-OP, we had to survey a lime bed field with a 'sled' that had three prisms on it, which two people pulled back and forth along the bed." – Adam I.

"We scanned the inside of a manhole (just last week) by lowering the scanner down the hole using a winch/tripod system that was designed and made by a couple of our former employees. I also staked grave markers at a cemetery one time, which was a little weird." – Adam C.
3. What Is the Coolest Project You Have Ever Done?
"The coolest project that I worked on would have to be working on the Rockies Express Pipeline for three months in the field and about a month in the office." – Adam I.

"While everything we do is 'cool', I remember on one occasion working in the field I had to get on a boat that took me out to a barge in the middle of the Ohio River. Once on the barge, I climbed up on the top of a pylon they had attached to a crane. The crane swung me out over the water and I had to have our instrument man on the shore line me up with where the pier needed to go so they could drive it into the bottom of the Ohio. These series of piers were being set for a conveyor system to load coal from the shore directly onto the barges." – Randy

"I'm not sure what the 'coolest' would be but, I enjoy working on higher profile projects that require special attention to detail or creative solutions (Fountain Square, Dunnhumby, Cincinnati Premium Outlets come to mind – I'm sure there are others)" – Adam C.
4. What Is Your Favorite Part About Your Job?
"I guess it's working with our surveying staff. We have a great group of surveyors who are tremendously talented and experienced, and have great attitudes. They care deeply about how we do things, and about TKG, which makes my job a whole lot easier! It's cool to be able to see projects completed and know that you played a part in the process of building the project." – Adam C.

"My favorite part of my job would be the variety of work that I could be doing from day to day.  One day in might be doing research at the courthouse or I could be mapping up a topographic survey for a large site." – Adam I.

"I like that every job brings different challenges to think about and find solutions too." – Randy
5. What Have You Done to Educate Students or Others About the Profession?
"I spent four years teaching survey calculations at Cincinnati State. I also worked with a local Boy Scout troop on survey equipment and maps." – Randy

"I've worked with students at Cincinnati State conducting mock interviews to help them with job and co-op searches." – Adam C.
6. Have You Participated in Any Volunteer Work Related to Survey?
"While not 100 percent survey related, but rather more engineering, I have been involved in a several construction projects in Guatemala, Ecuador, and Peru (houses, churches, and schools)." – Randy

"We have completed several Boundary/Topographic and plot plan projects for Cincinnati Habitat for Humanity over the past several years. They are fairly "standard" surveying projects that we do pro bono to help out the greater community." – Adam C.