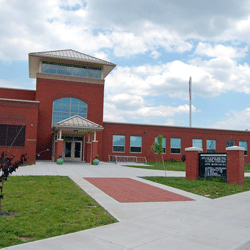 When you're in the business of developing land and infrastructure, it may seem disingenuous to talk about sustainability and conserving natural resources. But as we see it, our business is building better communities – and that means designing sites that are not only better for the environment, but more cost effective for the owner to operate and healthier for the people who use them.
In fact, The Kleingers Group was one of the first civil engineering and development firms in Ohio to have LEED®-accredited engineers and project designers on staff. We now employ 11 LEED APs, earning the distinguished position of having more LEED accredited engineers than any other civil engineering firm in Ohio. In 2007, we completed civil engineering design for Ohio's first LEED Silver-certified public K-12 school, Pleasant Ridge Montessori.
We view each of our projects as an opportunity to affect positive change, and we provide our clients with greener options to enhance the overall value of their product.
What is LEED?
The Leadership in Energy and Environmental Design (LEED) Green Building Rating System™ is a voluntary national standard created by the United States Green Building Council (USGBC) in 1998 for the purpose of developing high-performance building guidelines. Emphasizing initiatives such as sustainable site development, water conservation, energy efficiency and materials selection, LEED awards certification at various levels based on performance benchmarks, or "credits," awarded upon completion of the project.
Why incorporate sustainable design
principles into your next project?
Beyond the obvious environmental benefits, high-performance buildings reduce energy costs while improving indoor air quality, increasing occupant comfort and productivity, and enhancing asset value. In many cases, the construction cost of a high-performance building is only 6-8% of the total lifetime cost of the structure; operating costs make up the remaining 92-94%. Studies have shown that sustainable design can reduce these operating costs as much as 50% annually, maximizing the owner's return on investment.
Why work with a LEED-accredited civil engineer?
LEED accreditation provides a thorough understanding of sustainable design principles and the certification process – from documentation and registration to eligibility of the project for LEED credits. As one of only a handful of companies in the state of Ohio with LEED-accredited civil engineers, The Kleingers Group has the experience and expertise to ensure a smooth sail toward certification.
Learn more about LEED and the USGBC: