Advocating for Landscape Architecture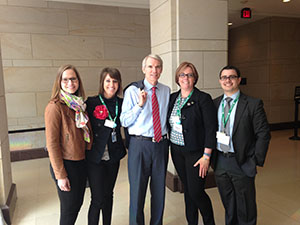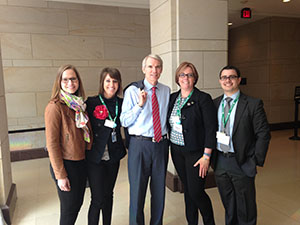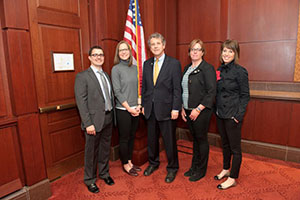 Last week, Lynne Nischwitz, the Landscape Architecture Studio Leader at the Kleingers Group, traveled to Washington DC as part of her role as Vice President of the Ohio American Society of Landscape Architects (ASLA) to advocate for landscape architecture and causes important to the profession.
Each year ASLA sends landscape architects from across the country to Washington DC to raise the visibility of the profession with legislators and help promote the solutions that landscape architects can help provide to various national problems.
This year, the group was advocating for three things:
Ensuring that bicycle and pedestrian paths and walkways continue to receive support in the latest Transportation Alternatives Program and are not subject to the same regulations as large highway projects.
Protecting the Land and Water Conservation Fund which provides grants supporting the local park, conservation, trail, and recreation projects.
Promoting the National Park Service Centennial challenge, ensuring money is available for the maintenance of the nation's national parks.
The group also spoke about the importance of licensure in the landscape architecture profession. The education, experience, and examination required to earn a license ensures that licensed landscape architects can "keep the public safe from hazards, protect and maximize the use of natural systems and resources, and prevent damage to public or private property from changes in the built environment", according to ASLA.
Lynne and fellow ASLA members met with Senator Rob Portman and Senator Sherrod Brown and Lynne also met with a representative from Steve Chabot's office.
To learn more about the 2015 Advocacy Day or about the issues visit www.ASLA.org.