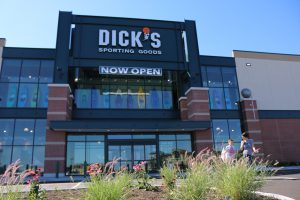 Sycamore Plaza Redesign
Kenwood, Ohio
In order to accommodate a new 80,000 foot Dick's Sporting Goods 'flagship' store, Kleingers provided land surveying, civil engineering and landscape architecture to move existing retailers and reconfigure the existing parking lot and entrance.
Previously, a complicated intersection had confused drivers coming from Montgomery Road into the plaza. Kleingers redesigned the intersection into a more traditional design that is easier to navigate, ensuring drivers could safely reach their destination.
The new Dick's Sporting Goods took the place of what had previously been an Old Navy and Staples, and the building was expanded to give the new tenant additional space. In order to accommodate the expansion, Kleingers designed a 660 foot long watermain relocation for Greater Cincinnati Water Works, reconfigured parking and added additional landscaping outside of the building. Space for an additional retailer, Five Below, was also designed next to Dick's.
Staples was also moved to the other side of the plaza, and demolition took place outside of the new Staples building to make more room for green space and landscaping.