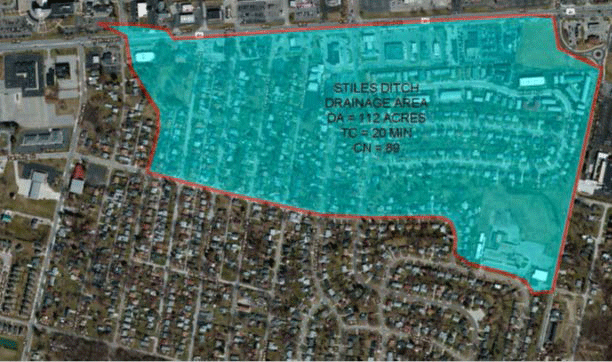 Stiles Ditch Watershed Analysis
Prairie Township, Ohio
The Kleingers Group performed hydrologic and hydraulic analysis of a 112-acre drainage area of Stiles Ditch located within Prairie Township, Franklin County, Ohio. Specifically, Kleingers assessed the impacts and extent of flooding within the ditch for various storm events. The lack of flooding and online storage within the watershed, combined with its highly developed land use, resulted in large volumes of water passing through the ditch, causing erosion and flash flooding problems. Analysis was performed to assist Franklin County in gaining an understanding of the contributing factors to the flooding and erosion issues and included identification of possible solutions.
The goal of this watershed analysis was to determine flood mitigation options along Stiles Ditch, ideally within the Stiles Elementary School site, which was currently under design for reconstruction. This was accomplished by creating hydrologic and hydraulic models for Stiles Ditch and a portion of its watershed. These models were analyzed to determine the level of mitigation possible within the study boundary and in particular, the Stiles Elementary School site. The proposed school site was then reviewed to identify areas that could be used for flood mitigation purposes, and what their potential impact could be. The larger watershed for Stiles Ditch was also reviewed to identify additional sites for potential flood mitigation and storage projects.
The Stiles Ditch Watershed exhibits a common problem of urban drainage areas in that it lacks open space for rainwater to either infiltrate or be detained. The result is a large volume of runoff that travels very quickly. As part of the study, Kleingers identified three potential alternatives for flood mitigation. A combination of these three options could provide some meaningful reduction to the runoff volume within a scope of larger flood mitigation improvements throughout the watershed.